With the completion 2008 Beijing Summer Olympics (closing ceremonies are tonight) it is time to look ahead to what we have in store for the future. 2010 Vancouver has some fun mascots and is only 537 days away.
In fact, there are some great mascots from past Olympics.
2012 London will have Michael Phelps, but not Jennie Finch. At least they'll have their star 14-year-old diver Tom Daley.
I'm the most pumped for 2014 Sochi on the Black Sea.
So what is Sochi? Well, it's a city in southern Russia on the "Russian Riviera".
This comprehensive blog post explains a lot:
Sochi has the most expensive real estate in Russia. This statistic should be staggering, considering that Moscow is already 35% more expensive than New York City. The reason is simple — Sochi is a happy childhood memory for any well-off Russian over the age of twenty. Maria Sharapova, the world famous tennis player, grew up in Sochi and campaigned abroad for the city to host the games. Vladimir Putin loves to ski in Sochi. Russian pop-stars and business executives have vacation homes there and Russian young professionals grew up taking summer trips to Sochi with their parents. Imagine a little piece of the Pacific Northwest tucked away at the bottom south-western corner of Russia with its tall snowcapped mountains, fir trees, smell of salt water, sunsets on the Black Sea, and lakes sprinkled between the beach and towering peaks. As President Putin said in his speech to the International Olympic Committee, the ancient Greeks settled near Sochi 2,900 years ago to enjoy this pleasant climate.
And yes, a Russia-shaped luxury island is to be built in Black Sea.
At first, no one was sure what the mascot would be. But now we have the *unofficial mascot of the games, a skiing dolphin: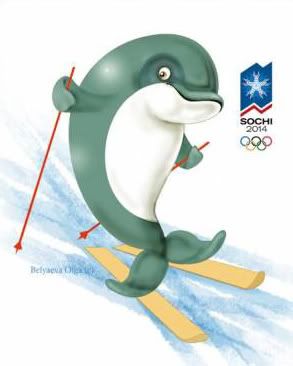 The only obstacle now is Sochi's proximity to Georgia. 20 miles. Some members of Congress want the Games out of Sochi:
Reps. Allyson Schwartz, D-Pa., and Bill Shuster, R-Pa., said in a joint statement they plan to file a resolution declaring that Russia's movement of troops into Georgia on the eve of the Beijing Olympics makes it an unacceptable country to host the games.

"It is practically and financially untenable to hold the 2014 Winter Olympic Games less than 20 miles from a zone of conflict, particularly when the prospective host country has played a significant role in the escalation of that conflict," according to a draft of the resolution.

IOC spokeswoman Giselle Davies said Friday the IOC believes the Olympics games are "not a tool to be used by politicians."

"It is premature to make judgments about how events happening today might sit with an event taking place six years from now," Davies said in a statement, adding that 35 representatives from the Sochi 2014 are in Beijing observing the games.
And Toronto's Globe and Mail reports that ABC wants in on the TV coverage for 2014. NBC already has rights for 2010 and 2012:
ESPN-ABC threw down the gauntlet to NBC this week when it said it would aggressively bid for U.S. rights to the 2014 and 2016 Games, and promise the IOC to air more of the content live. NBC, which is televising its fifth consecutive Olympics and also owns rights to 2010 and 2012, tape delays almost all of the big events when the Olympics are held outside a U.S. time zone. EPSN-ABC stopped short of saying it would televise everything live if it were the Olympic rights holder, as the CBC does, but executive vice-president John Skipper told The New York Times: "We serve sports fans. It's hard in our culture to fathom tape-delaying in the same way they have. I'm not suggesting it wasn't the smart thing for them [NBC] to do, but it's not our culture. We did Euro 2008 in the afternoon. We've done the World Cup in the middle of the morning. We have different audiences."
Sochi, like many cities, also provides matchmaking services – with over 150 marriages since 1999.
Russian DJ Alexei Grizli even produced a house song titled "Sochi 2014″ that reflects the local culture.
Only one question remains: Where will the 2016 Summer Olympics be held? Not Azerbaijan, Qatar, or the Czech Republic. Instead, try Tokyo, Madrid, Rio de Janeiro, or Chicago as prospective hosts.